It's no secret that I think the grounds of Peachy Canyon's 46 West Tasting Room are beautiful and peaceful places to roam with my camera. It's a bit more lively inside the tasting room itself, but if you step behind the tasting room to the park-like area for picnics it is tranquil. I especially love the large oaks where I sometimes see squirrels playing. Often the winery cats will come to say hello and ask to be petted, and we all know petting a cat is calming.
Peachy Canyon Gazebo and Picnic Area, ©B. Radisavljevic, ©B. Radisavljevic
Autumn is one of the most colorful times to visit any vineyard. I took these photos in early November, 2013. Just click on them to enlarge them.
Ripe Grapes on the Vine at Peachy Canyon, 2013, ©B. Radisavljevic
Grape Leaves Dressed for Autumn, Peachy Canyon, 2013, ©B. Radisavljevic
Guardian of the Vineyard, Peachy Canyon, 2013, ©B. Radisavljevic





I'm thankful I have such a generous neighbor who allows me roaming privileges when I need to find a few minutes of peace in the midst of a hectic life. Next time you approach the corner of Bethel Road and Highway 46 West, stop in and taste some wine. Then take it out on the grounds to sip in tranquillity in the shadow of the oaks as you look out at the vines.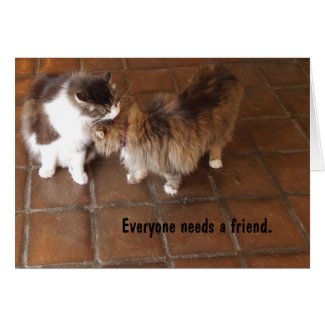 Friendship Card, Peach Canyon Winery Cats Greeting Card
Make a card
on Zazzle using your photo.