When people visit Paso Robles, they are very likely to spend some time downtown. Most public festivals take place in City Park, and many of the boutiques, specialty shops, and businesses targeting tourists are found on the streets bordering the park. People who spend time downtown usually remember the Paso Robles Inn Coffee Shop, the theater, and the Acorn Building that you see pictured here. All are across from the Park, though on different streets.
This clock tower has come to be an icon of the City of Paso Robles. It is across from the downtown city park on the corner of 12th Street and Park Steet, and the original building dates from 1895. It was an unreinforced masonry building when the San Simeon earthquake destroyed it in December, 2003. Two women in the building at the time the quake struck died. This article shows
photos of the damage
the earthquake did downtown, as well as a photo of the original clock tower building. You can read here
how this earthquake affected me and my home business and see my damage photos
. For more on the history of the building with more photos, see this
article from Paso Robles Magazine
, our most read local publication.
It took until 2007 for the building to be rebuilt and open to the public again. I took this photo on January 27, 2015. The clock tower design is available on several products from postcards to laptops cases and postage stamps. You can see them all along with other Paso Robles landmarks by clicking the image or link below.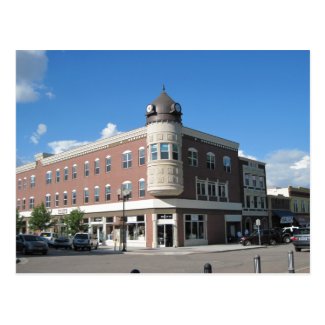 Clock Tower Downtown Paso Robles Post Cards