I mentioned yesterday that I'd be attending a meeting of the Board of Supervisors in our county seat, San Luis Obispo, today. It was a long meeting, and after listening to almost four hours of presentations and public comment, it was finally over.
As we walked down Monterey Street to go back to the car at dusk, we passed this historic theater which has served San Luis Obispo for over fifty years. Generations of Cal Poly students are reminded of their college days when they see the
Fremont Theater
. It probably says "San Luis Obispo" as loudly as the mission itself.
I was blessed to walk by just early enough not to need a tripod and just late enough in the day to see the Fremont lit. The sidewalks were also uncrowded, allowing a clear shot. The cars I can't help. They are always there. You can click the photo to enlrge it.
One of my other shots of the theater is available as a print at Zazzle, as well as on other products such as phone covers, post and greeting cards, jigsaw puzzles, and more.
See all products with this design.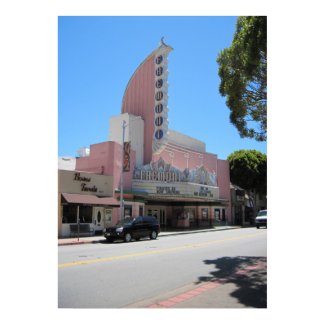 Fremont Theater, 2011, San Luis Obispo Print
by
barbsbooks
Look at San Luis Obispo Posters online at
Zazzle.com
Do you remember theaters like this from your childhood or college days?