My house is surrounded by vineyards. Sometimes when I'm trying to sleep I will hear tractors as early as 5 AM, sometimes even when it's still partly dark out. Other times, like last night, I will see or hear my neighbor's tractor at dusk. I was walking from an outbuilding when I heard the sound, and I liked the silhouette of the driver and the vines against the sky. So, of course, I snapped a picture or two. I liked this one best.
When you get down to the basics, with all the mystique surrounding wine, it still comes from grapes, and those grapes must be tended carefully by those who know them best. Some seasons are busier than others. Planting seems to go on in the dormant months. Then comes cultivating and pruning. Finally, in autumn, there is harvest. Harvest is a joyful time, but not a quiet one. See for yourself in
What It's Like to Live in Wine Country During the Harvest.
Although wine country isn't always quiet, it's almost always beautiful. There's nowhere else I'd rather live.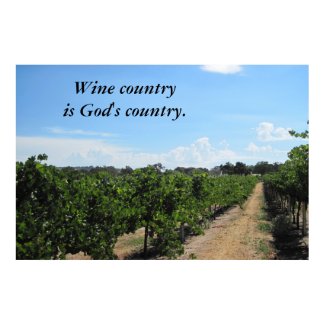 Poster of Paso Robles Wine Country
Check out Prints &
Posters
online at Zazzle.com