This is the time of year when people look back and remember the past before moving on to a new year. I'd like to stop and remember those whom many would consider ordinary people unless they knew them well. They lived in Paso Robles and left us during these last few years. They touched many lives for good during their time here, and they helped their friends and neighbors. Did you know any of them?
Rich Troyan after Work
The one I have missed the longest is Rich Troyan, a close friend of our family since we met him in 1992. He was first someone we hired, and then he became a friend. Shortly after that he started his auto mechanics business in Atascadero. He was a good listener, a helpful person to his friends, and one who wasn't afraid to speak his mind. This is how he looked sitting in my living room the last time we saw him. The picture was taken months earlier, but he always sat there wearing his work clothes after he'd come to visit.
Charles Richard Troyan on Easter
He was brilliant in solving technical problems in unusual ways in both vehicles and computers. He loved to learn and at the time of his death he was trying to teach himself chemistry with an online course. He was a curious person with a childlike spirit of playfulness. He left this world too soon in 2003.
In this photo he appears as few saw him -- in a suit. It was taken the Easter before he died. He also wore it to the wedding of a close friend's daughter. I made him pose for this picture after Easter dinner, knowing I might never see him in a suit again. I was right. I didn't.
John Adams in Conversation after Church
Another ordinary person who touched the lives of those around him was John Adams. We met John at church, where he was very active in playing the piano and serving wherever he was needed. Our church building when John was alive was a preschool during the week, and it had to be set up like one again after our morning worship was over. John was one of those men who helped make the transformation each week. I can't walk into my church without realizing John isn't there anymore. In this photo, John is on the left, chatting with another member as he usually did after the service.
Calligraphy ©John Adams
During the week John worked in construction and doing handyman jobs for his many friends who were happy to hire him. He worked harder than most for less reward than most. I believe his reward will be great in Heaven. Between the church, his work, and his family, there never seemed to be enough of John to go around. In his spare time he was an artist who specialized in calligraphy. Here is a sample of his work in writing a Scripture that was very meaningful to him. It was on the table with his some of his other work at his memorial service.
John was a blessing to his church and to the family who loved him and whom he loved. He left us much sooner than anyone expected in September of 2013. Cancer stole him from his family and friends.
I don't have many photos of John because he was usually working when we saw him. I don't feel at liberty to share his family photos. This is the table prepared in his memory when we gathered at church to remember him. You can click to enlarge this or any of this photos.
Walter Heer's Last Ride, © B. Radisavljevic
Another person we miss is Walter Heer. I have paid him tribute in
"P' is for Pleasant Valley Cemetery
. He is a Paso Robles old timer who has filled me in on many details of Paso Robles politics I never wanted to know. He was a veteran and participated in many local organizations.
He came into our lives because my husband met him at Kennedy Club in Atascadero. They got talking in the sauna one day and just kept talking over the years. Although Walt lived a normal lifespan, cancer made it shorter than it might have been. Walt died in Greece seeing as much of the world as he could since he knew his time was short. The photo shows the end of Walt's last trip -- to Pleasant Valley Cemetery.
I'm sure each of us has special people we have missed during the holidays this year -- people who used to be a big part of our lives. I have only mentioned the ones I knew best here, although our church as lost many more. As I remember these people I'm reminded that although famous people may have wide influence and name recognition, it is those who touch our lives every day that we miss most when they are gone. Celebrities may have wealth and fame, but it is the ordinary people who work hard every day and care for their friends and neighbors who probably impact the lives of others and the world the most by their example and by their willingness to serve those in their lives. What do you think?
Whom do you miss this year?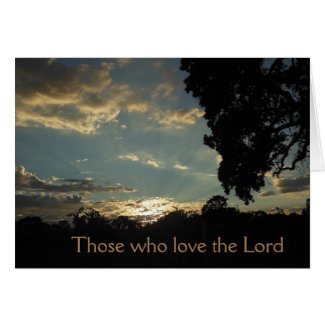 Text: Those who love the Lord never meet for the last time.
Condolence Card: Sunset, inspirational Greeting Card
View more Sympathy Cards at
zazzle.com