We've all experienced those gray days when it rains off and on and one would rather be inside by a fire. But often we have to go out, rain or sunshine, because we have commitments to keep.
Such was the late November day that I took this photo. I had seen the nurse practitioner to get a referral to see an orthopedic specialist about an injured knee. Although it was painful to walk, there was no place left to park at the medical building on Posada Lane. Instead I had to park across the street in another lot and walk almost a block back.
The walk made me a bit late, but as usual they were running a bit late, too. When I came out about an hour later, it was drizzling. As I walked toward my car in the parking lot, I saw the trees. In contrast to the gloom of the sky, they painted a wall of red, green, and gold between me and whatever houses and cars were on the other side of them. I'm thankful to whomever decided to plant the trees -- those in the lot and those on private property beyond the parking lot. I counted fourteen in this picture alone. Trees add such a dimension of beauty to our world.
To see more of my world of trees, follow
Trees in My World | "Only God Can Make a Tree"
Meanwhile, here's one of my favorite photos, taken in Templeton, that I turned into a poster of autumn color. Just click the link to get it. If you'd like to remove or change the text, it's easy to do if you press the
Customize
button.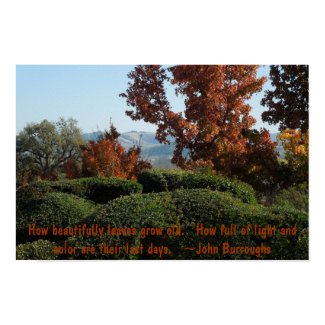 Poster: Trees in Autumn Colors
Find other Autumn Posters at
zazzle.com