The Salinas River in Templeton Looking South
Yesterday I made a stop in Templeton to see how much water had been added to the Salinas River since I photographed it there in July. This is the picture I took from the Vineyard Drive Bridge looking south on July 2. As you see it looks like a series of large puddles. The shrubs and grasses still get water from beneath the surface to stay green.
Salinas River Looking South from Vineyard Drive Bridge, July 2, 2016
Here is the most comparable photo I took yesterday looking south. You can see that the river was recently much wider. By the way the shrubs bend you can see the north-flowing river had gone over them. Most of the shrubs that were green in July have turned brown, especially on the sandbar in the middle. I took these photos in late afternoon, and I didn't notice the sun spots until I uploaded the pictures.
Salinas River Looking South from Vineyard Drive Bridge, 1-28-2917
I just made a puzzle of this shot at Zazzle. Here it is. I edited the sunspots out of the puzzle. It is not watermarked, either.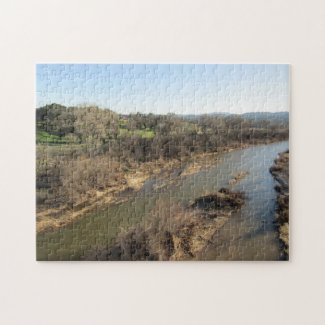 Salinas River from Vineyard Bridge, Templeton, CA Jigsaw Puzzle
This next photo is a closer look at the part of the scene just beyond the sandbar.
A Closer Look at the River Beyond the Sandbar Looking South
Next is a closer look at the west bank. You can see the patterns formed in the sand by the flowing river. You can also see how much more of the river was recently covering this.
Patterns Salinas River Made in Sand Near Riverbank
The Salinas River in Templeton Looking North
I also took photos from the north side of the bridge. The Salinas River flows north, not south like most other rivers. It finally empties into the Monterey Bay. This photo focuses on what I see immediately in front of me as I aimed the lens north. You can see the shadow of the bridge falling across the river.
Salinas River Looking North from Vineyard Drive Bridge in Templeton, 1-28-17
Here is a more detailed view of the west bank. There is still a bit of shadow from the bridge. Notice that some of the water is caught right next to the bank. Here, too, you can see how the grasses in the river are leaning north where the river flowed over them.
Close-up of West Side of River Near Riverbank
I'm wondering how long this river will remain visible if we don't get more rain soon.
***