In my first garden in Templeton, 2001 - taken by my husband.
I started this blog on a theme day, February 1, 2015. The theme that day was what we would miss most if we ever had to leave where we live. I wrote then
What I'd Miss Most if I Left Paso Robles Forever.
Today we are to write about why we feel we belong where we are, or where we feel our homeland is. Of course, my homeland is America. What I wrote last year about the part of it I occupy is still true this year, except that the Paso Robles area means even more to me after another year. We've now been here 23 years, and that's longer than I've lived in any other area. I grew up in Los Angeles County and spent the first 43 years of my life there. I had no idea what I was missing.
We moved up into Ventura County for 15 more years before moving here. I loved Ventura County when I was there. I've never lived far from the coast, and we lived within walking distance of Mugu State Park in Ventura County and could hike there very conveniently. If we had enough time, we could actually walk all the way to the coast. I was perfectly content.
A Fallen Tree at Larry Moore Park in Paso Robles, © B. Radisavljevic
Then in 1993 we moved to Templeton and I knew I'd really found my place. We also live in Paso Robles sometimes. Whichever place I lay my head each night is still home. The trees and vineyards are easily accessible. I feel the trees I've been photographing on the streets, in the parks, and in the vineyards are like friends I've watched as they grew larger and sometimes even fell or split. They are part of what being here means to me.
A Part of the Zenaida Vineyards Few Visitors Ever See, © B. Radisavljevic
One thing I love about this area is being able to stroll through the quiet vineyards with my camera, exploring them and discovering some remarkable trees and birds. The photo above was taken where a strand of trees separates upper vineyards from lower ones closer to the highway. Some of the most beautiful oak trees in the area live at Zenaida. One day I saw a group of turkey vultures in the trees.
Later that day I saw my first acorn woodpecker.
Birds love vineyards. Some like to steal grapes and others help keep the rodent population down.
Turkey Vultures at Zenaida Vineyards, © B. Radisavljevic
I also love the coastline here, especially the north coast which is closest to me. We had beaches in Los Angeles and Ventura County, but I love the character of our rugged coastline here. This was taken as I walked the boardwalk at Moonstone Beach.
Taken from the Boardwalk at Moonstone Beach, © B. Radisavljevic
To get a better idea of why I love this area so much you'd need to follow the blog and see the photo or photos I post each day as I walk around with my camera. As I take my pictures, I turn some of them into postcards and posters in my Zazzle Store. Here's a sample postcard from the collection linked to below.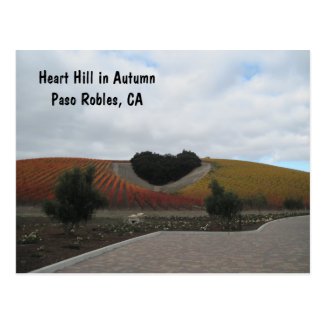 Postcard: Heart Hill in Autumn, Paso Robles Postcard
Browse for more
postcards
from zazzle.com.
You can see the rest of this postcard collection from Paso Robles Wine Country here
.