Today's experience at the Emergency room at Twin Cities Hospital was much better than such visits used to be. When I first moved here the emergency room was somewhat hidden at the east side of the building and parking was hard to find. The waiting room was cramped and often there was not enough room for the families of patients who were being seen. People practically had to sit on top of each other and if someone came in a wheelchair there was almost no place to put it.
All that changed in 2007 when the hospital was remodeled and the emergency room was enlarged and transformed. I decided to check out the new additions in 2011 and wrote a guide for those who wanted to know how to find the emergency room and its new parking area fast in case of emergency. The wee small hours is no time to have to be lost when a patient needs help fast.
Today my husband had to take me in because of a lower back problem that made moving difficult. Again I was reminded of how much easier it is to check in than it used to be. After the papers are filled out, there is a spacious area to wait.
That row of chairs you see in along the wall on the right extends past the photo limits. Restrooms and drinking fountains are just across from the chairs. There is plenty of room for everyone.
Once inside you get a private room with walls, not just curtains, between rooms, while you are being treated.
I was in and out within about 90 minutes. They gave me a pain shot, gave me an X-ray to confirm nothing was broken and it was just a muscle spasm, and gave me prescriptions to help me keep the pain under control while I heal. I will be spending less time at the computer until I heal, so I may have to skip a day or two posting until I'm better.
We are very fortunate to have such an efficient emergency room here in North San Luis Obispo County.
Even so, I prefer not to visit it very often. It is good to know, however, that it's there when I need it.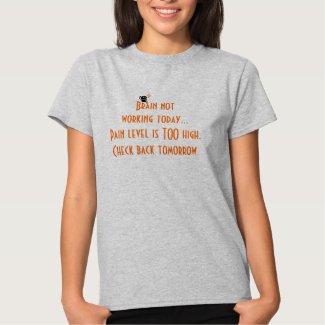 Brain Not Working Shirt
Design your own
custom tee shirt
online at Zazzle.